【Notice】
For the time being, it will be open on Wednesday, Thursday, Friday, and Saturday, from 12:00 to 17:00(Last admission 16:30).

To prevent the coronavirus (COVID-19) , please check the following notes before visiting.​

〔more〕
Access
Access
Adress
4-10-28 Higashi, Shibuya-ku, Tokyo, 150-8440 Japan
TEL:+81-(0)3-5466-0359
WEB : http://museum.kokugakuin.ac.jp/
【Access】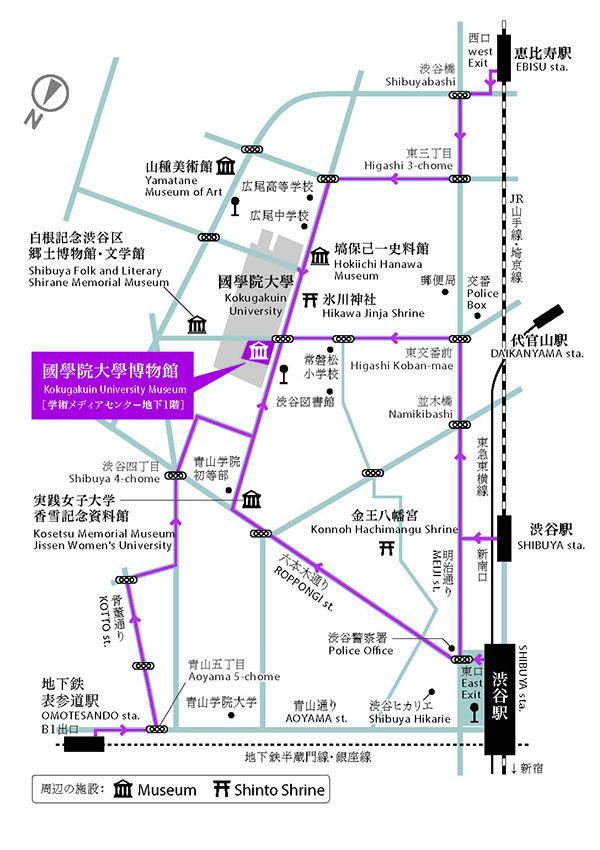 Google map (The map above and google map are opposite in orientation.)



Transportation
Accessible on foot or by bus, 10-15 minutes from Shibuya Station, Omotesando Station, or Ebisu Station
■ From Shibuya
13 minute walk from Shibuya Station
Take the city bus from bus stop 54 at the Shibuya Station East Exit Bus Terminal. The bus is marked "Gaku 03, Red Cross Medical Center"(学03日赤医療 センター前行). Get off the bust at the stop for Kokugakuin University(国学院大学前)
■ From OmoteSando
15 minute walk from Omotesando station (Take Exit B1)
■ From Ebisu
15 minute walk from Ebisu station
City Bus: from Ebisu Station West Exit Rotary Bust stop 1, take the bus marked Gaku 06 Red Cross Medical Ceter (学03日赤医療センター前行) and get off at Higashi Yon Chome(東四丁目)

※No parking on campus.